Dimensional Letters
View Sign Gallery
Attractive, eye-catching, and dynamic, custom dimensional letters, signs, and graphics are a reliable choice for practically any business that desires to establish a great first impression.
Dimensional letters, sometimes referred to as raised letters or 3D letters, are custom letters or designs causing depth and interest to an otherwise boring space. This type of signage is cast, molded, fabricated, or cut from a solid sheet of sign material to develop this look.
Dimensional signage offers the perfect solution that pretty much all business owners are seeking: a branded look inside and out, enticing and supporting potential clients and customers.
Seismic Signs will confirm that eye-catching dimensional signs are an intelligent answer for any kind of brand. Whether you manage a hotel, warehouse facility, hospital, restaurant, small business, etc., our dimensional letters are sure to look great on and in your premises.
Our custom produced raised letters are uniquely produced to be highly visible and to help extend your branding reach. Seismic Signs crafts your signage from the perfect supplies in the market so after installation of your dimensional letters, they will easily keep building excitement around your company and brand for several years.
Call Seismic Signs today at (619) 503-3634 for your Free Consultation!
Appealing Storefront Signage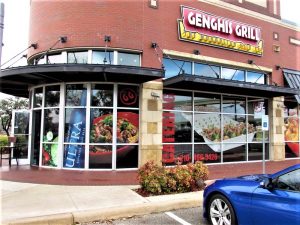 Intriguing and eye-catching, dimensional letters are a perfect option for your building's exterior sign. They give texture and depth to your storefront, providing an attractive and professional look. The adaptability dimensional letters have is also beneficial. While usually fitted on your building exterior, they are also effective when utilized into monument signs, pole signs, and message boards. Channel letters are a similar substitute to dimensional letters.
Even though the 3D letters are not internally lit, Seismic Signs can add halo lights, spotlights, or outline lighting during the installation of your signage, so your lettering is apparent even during the evening. With our custom dimensional lettering, your company stands apart from your competitors and your brand message is noticed, professionally.
Attractive Indoor Lettering
Dimensional letters aren't exclusively for your business storefront; they also give the inside of your business a professional atmosphere as branded lobby signs. We can install them near your waiting area and your custom branding is going to be the very first thing your clients and guests recognize the moment when they come into your facility. Dimensional lobby signs and logos are very versatile, and they can be fabricated from several different materials and mediums, with lighting options, if required or desired. Dimensional letters could also be used as wayfinding signage and other custom signs and graphics to deliver a large influence for convenience stores and retail stores.
In spite of the name, 3D letters are not only limited to lettering either! Your signage can consist of logos, numbers, images, or a blend of any elements you desire placed on the walls of your business. Seismic Signs's team of dedicated sign and graphic designers can't wait to assist with generating indoor signs tailored to suit the special originality and style of your brand and business. If you are wanting to develop a 3-d effect that seriously makes sure your brand is noticed, Seismic Signs can create dimensional letters that perfectly reflect your brand.
Durable Dimensional Letters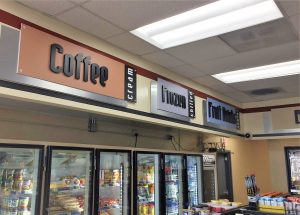 Seismic Signs develops dimensional letters and graphics from many different materials that best benefit your brand and business. Depending on your design, we may use wood, metal, plastic, and/or light foam as the key media for your dimensional sign and graphic project.
As a sign material, plastic is known for its versatility and includes coroplast, vinyl, polycarbonate, and acrylic. The hardiness and stability of plastic means it is an excellent material option for outdoor dimensional signage and letters. For indoor letters, metal is the right option mainly because of its elegant appeal, but is equally resilient when placed outside. Metal commonly used for sign making includes bronze, copper, brass, aluminum, and stainless steel. A popular choice for large-format, colorful lettering, light foam is picked due to the fact that it is sturdy, lightweight, durable, and thick. Our team of experts can easily help you pick out the ideal sign style and media to accomplish your ideal finished look without overreaching your allowed budget.
Full-Service Sign Company
Its not easy to find the right sign to represent your brand identity. You will need experience, patience, time, research, and a well-performing manufacturing strategy. When working with Seismic Signs, you can be confident that you will never go through all of this on your own. Our staff of expert visual artists and sign manufacturers share their expertise to support you all the way through the commercial signage production process.
Seismic Signs is the only sign and graphic supplier you will ever need. Our specialists generate designs, we assist you in choosing the perfect materials for your unique business needs, and we make certain your signs and graphics are strategically mounted. We are always just a call away if you need any type of support or assistance with your custom signage.
Free Dimensional Letters Consultation
Seismic Signs offers close to endless customization possibilities for your commercial graphics and signs. No matter whether you are wanting to get more customers to visit your business, expand your corporate brand, or make it easier on customers to find what they need in your business, our dimensional letters, images, and logos will suit your needs perfectly.
Call Seismic Signs today at (619) 503-3634 for your Free Consultation with a Dimensional Letters Expert!