Window Signs & Graphics
View Window Signs Gallery
Whether you are a service provider, operate a retail store or office premises, the front window of your premises tells a lot about your business to the customers.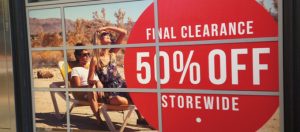 You may want to inform your clients on what you have to offer them or promote a special product or service or even guarantee the privacy of the customers inside your premises. No matter the reason – an eye-catching window display can help you accomplish all this. Seismic Signs is your local vinyl window graphics partner. We offer a wide range of eye-catching window clings, graphics, and displays to promote your San Diego company.
Call Seismic Signs today at (619) 503-3634 for your Free Consultation with Window Signs Specialist!
Window Displays For Every Business
Seismic Signs offers the best window graphics and signs for all your needs. We have highly experienced graphic designers who will assist you with customized window graphics to promote your brand and achieve your goals. We help take the message out to the customers.
Our popular window signage products include:
Vinyl window graphics
Privacy films
Window vinyl lettering
Promotional batters and multi-color window posters, etc.




Are you worried as to which window graphic product is best for your brand? If so, you don't need to worry since our specialists will discuss your requirements during the consultation session before recommending the best window sign product for your location, business, and budget.
Window Graphics For Retail Storefronts
Retail stores place so much of importance on the window display of their stores. In fact, an attractive display will help to attract more customers to your store. Whether you want to attract new clients to your store, have a special promotion, or sale, a good window sign is a great way to do it.
A window graphic is usually updated seasonally in order to feature the newest products of a company. Our San Diego team provides attractive and compelling window signs, graphics, and banners for your event, products, and sales. It will help promote your products in a professional way – which will help draw more clients to your business.
Privacy Vinyl Displays For Offices
Many service providers like law firms, counselors, therapists, and realtors use vinyl privacy films on the exterior windows. We offer privacy films with a frosted glass or an etched finish. That way you can save on spending on permanent frosted-glass panels for your business premises.
Some of these offices prefer to have their business name, image or logo included in the film – for branding purposes. We will create a unique privacy film that is highly customized to your company. In fact, our experts can show you an example of a popular vinyl film so that you are able to make the right decision for your business.
Window Displays For Service Providers
Even if you don't have retail products to sell, there are many other ways that you can use a window display. You may add a window display that showcases your best services, special offers or design a mural to show how you can assist the customer. Our expert designers will work with you in order to design the perfect display for your requirements. In fact, our full-service package includes the creation and installation of your window signs.
Free Window Graphics Consultation
Our team will help you from the initial consultation until the end of the installation process. We create some of the best window displays so that you can attract more customers to your facility. In fact, Seismic Signs creates the perfect solution for your San Diego business.
Call Seismic Signs today at (619) 503-3634 for your Free Consultation with Window Signs Specialist!