San Diego Truck Wraps
View Truck Wraps Gallery
Does your business involve using commercial vehicles? Do you have delivery trucks, service vehicles, or corporate cars on the road? Why not turn these vital vehicles into powerful marketing tools thanks to customized truck wraps and vehicle graphics? You can spread awareness of your brand, display your logo, and provide contact information everywhere you drive!
Putting your marketing message on the road makes it dramatically more visible, reaching both fellow drivers and ordinary people on the streets that your vehicle might pass. Branding all of the trucks in your fleet makes your business look consistent and professional and sends a powerful message about the stability and reliability of your San Diego company.
Call Seismic Signs today at (619) 503-3634 for a Free Consultation with a Truck Wrap Expert!
High-Visibility Brand Marketing Tool
Take a moment to consider how commuting works. You drive to and from work every day on the same route, blending seamlessly into the traffic – and passing by without notice. Now consider how different that trip would be if you drove it in a branded vehicle featuring one of Seismic Signs's custom truck wraps. Suddenly your daily commute becomes a marketing mission! You get more new customers stopping in and calling on the phone. Before you know it, your brand is recognized throughout your community.
Vehicle wraps don't just spread your marketing efforts to a wider audience. They also lend consistency and professionalism to your brand. Most commuters who travel alongside your wrapped vehicles are covering the same route every day as they drive to and from work. That means your truck wraps are presented to them repeatedly, delivering the kind of emphasized marketing message that advertisers would kill for. When you wrap your truck, you turn it into a distinctive and effective mobile advertising tool. It'll attract the right kind of attention wherever it goes.
Completely Customized For Your Needs
Every business is in a unique situation, and therefore every business needs a unique approach to marketing itself. The perfect wrap for your vehicles is one designed with professional skill using effective graphics elements, customized to fit both the vehicle it's applied to and the specific message you want it to send. We employ highly experienced truck wrap designers to ensure that you get the perfect vehicle graphics every time. Describe your needs and we'll point you toward the perfect custom vehicle graphics to achieve your goals.
At Seismic Signs, we design, fabricate, and install all of the following:
Full Truck Wraps
Partial Truck Wraps
Custom Graphics, Decals, & Stickers
Perforated Window Film
Vehicle Magnets
A lot of San Diego, CA businesses operate diverse fleets made up of vehicles of many different types. We have the experience and knowledge to put an attractive custom wrap on any commercial vehicle, from a motorhome to an ATV! We'll help you design a consistent brand for your entire fleet and then modify it to suit each individual vehicle.
Protect Your Vehicle Investment
Even beyond their marketing abilities, truck wraps can serve a practical asset-protecting purpose. Your wraps will be made from a tough, durable vinyl film. When applied to your vehicles, they provide a hard-wearing protective layer over the factory paint job to preserves your vehicle's original finish. Because vehicles are a significant investment for any business, any steps taken to safeguard their value are easy to justify. A truck wrap can make a significant contribution to the lifespan of the vehicle's original factory finish.
In order to deliver a reliable level of protection, it's very important to have your wraps installed by experienced professionals. Our team is highly skilled at every step in the wrap installation process, from initial prep to final finish. We take pride in the quality of our finished product, and we believe you will too.
Complete Truck Wrap Manufacturer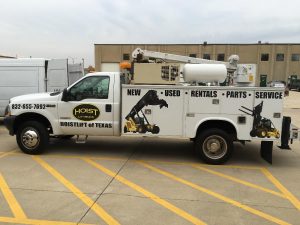 Trust us to handle every aspect of truck wrapping, from initial consultation and design through installation and on to maintenance and removal. We have a comprehensive team that possesses every skill required to design, manufacture, and install an attractive, durable, and effective vehicle wrap for you.
If you've got an already-wrapped vehicle that's suffered damage to its wrap, we'd be happy to repair it for you. Whether the initial installation was handled by us or by a third party, we'll be happy to restore your wrap to like-new condition.
Free Truck Wrap Consultation
If you're ready to boost your San Diego brand visibility, attract fresh business, and protect your commercial vehicles with a quality truck wrap, trust Seismic Signs for all your vehicle wrapping needs! Enlist our expertise to meet all of your needs for vehicle wraps, vehicle graphics, and whatever other business signage products you might require.
Call Seismic Signs today at (619) 503-3634 for a Free Consultation with a Truck Wrap Expert!